Message from our President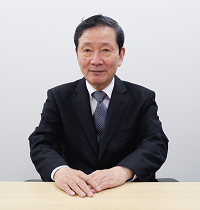 Since the founding of the Wakabayashi International Patent firm in 1967, our guiding philosophy has been "to be a first class patent firm committed to satisfying the needs of our customers".
The past several decades have witnessed significant changes in the legal system as it relates to intellectual property at home and abroad.
Concurrent with these changes, the range of the needs and the expectations of our domestic and foreign customers have grown considerably. Already deeply committed to our customers, we continue to expand our resources to ensure that we can provide our customers with top of the line services and support.
Our firm includes highly knowledgeable, experienced and personable patent attorneys and technical experts in multiple IP fields with world class communication skills.
We are proud to note that our reputation in the industry in such that customers seek out our IP specialists and request: "we would like to work with you".
The confidence that our clients have in our work and legal judgement, combined with our reputation, account for our success and the growth of our business since 1967.
To accelerate our business, develop new clients and deepen existing partnerships, we continue to recruit the best IP attorneys and experts in each field and to provide an office enviroment that drives the pursuit of excellence.